Fiction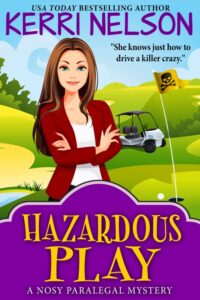 Hazardous Play: A Nosy Paralegal Mystery
Tabitha "Tibby" Hamilton has always been a bit inquisitive (oh, who is she kidding..she's just plain nosy). So, a career in the investigative legal field seemed like the perfect fit. But lately, she's been a little bored with her job. And after an inappropriate relationship with her boss puts her career on the line–she's searching for a new beginning. But when she accidentally stumbles upon a dead body while playing a round of golf, her investigative (and nosy) skills kick into overdrive. Will this case be the new challenge she's been searching for? Well, one thing's for sure, she sure knows how to drive a killer crazy! Hazardous Play is the first in a new series of short novellas featuring paralegal, Tabitha "Tibby" Hamilton. This series is meant to be read in order and each novella is meant to be a quick, little bit of bite-sized fun for the cozy mystery lover. Look for Book #2…coming soon!
Where to Buy:
Available on Amazon Kindle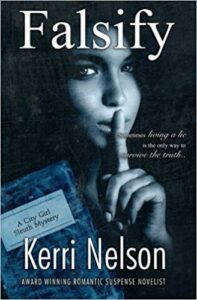 Falsify (A City Girl Sleuth Mystery)
After one too many tangles with trouble, fifteen-year-old Tina Tolliver has been sentenced to spend the summer in Truth, Texas with her grandmother. Being an only child from Los Angeles, Tina finds life in a small town intolerable. But when she meets sexy, bad boy Billy Preston, she decides she might stay awhile. Her punishment includes cleaning out the attic, where she discovers a journal from fifty years ago containing details of an unsolved murder which may have involved her grandmother.
Available on Amazon Kindle
Or in Print on Amazon
Non-Fiction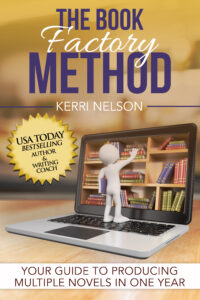 The Book Factory Method
My motto in the publishing world is: Get Published. Stay Published.
The Book Factory Method will teach you how to do just that.
If you want to learn how to get started, stay on track, and get those books ready to submit—this book puts a method to the madness of novel writing.
•Is life getting in the way of you completing that novel?
•Ever think there's not enough hours in the day to find time to write?
•Have a full time job that is distracting you from your real passion of being a novelist?
•Are family responsibilities weighing you down and interfering with your writing goals?
•Are you one of those writers who starts multiple projects but never finishes any of them?
We'll talk about how to finally see those projects through to completion and how to manage it all without losing sight of your goals.
My Book Factory Method is derived from my workshop that has been time tested by hundreds of writing students since 2009!
Use these simple steps in your everyday life to increase your productivity. Give these methods a try and see the results you've been striving for.
What are you waiting for? It is time to clock in and get to work.
Available on Amazon Kindle
Or in Print on Amazon
Other Titles
Cozy Foods: 128 Mystery Writers Share Their Favorite Recipes:  (2014) (Includes recipes from the Working Stiff Mystery series)
The Spirit of Poe Anthology: Darkishly Yours & The Trials of Abby Normal (2012)  (sales benefit charity)
Sweet Sunshine: Baking Sweet Memories: as K.G. Summers (2011) (sales benefit charity)
Out of Print Titles
Miss Taken                                       
Soul Searcher                             
The Saucy Celt                                
Pay at the Pump                            
Cross Check My Heart                 
Vegan Moon                                  
Making the Ghost of It                
Secret Lives of Sea Crest Wives
'Twas A Dark & Delicious Christmas "Holly's Clause"
The Mystical Kilt
Eve of the Dragon
Missing Missy
Courting Demons
Kissing the Bull
Forstaken
Double Take
Cozy Christmas Capers Anthology
Cozy Christmas Shorts Anthology
Remote Consequences
Worked to Death
Ornamental Danger
Backyard Bar-Be-Feud (in Killer Beach Reads Anthology)
Disorganized Crime
Working Stiff Mysteries Box Set